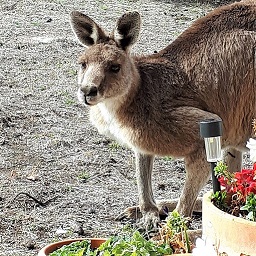 M
ighty strides as he bounds across my paddock,
Yields not to fence as he disappears behind the hammock,
Feed of grass nowhere to be found on this crust,
Rain gauge is full of dust but hope we must.
In search of a meal he comes closer and closer,
Endeavoring to help we put out food, but no sir.
Need of feed amongst a frightful drought,
Discreetly searches this garden with plants about.
Mayhem abounds among bud and now leaf,
Resident tenants include our hungry thief.
Grunts as if to say what's to eat,
Resigned to what seems certain defeat.
Unconcerned of this lady with anxious heart,
Never far from her door she will do her part.
Tired with wounded paw abject to death abound,
Yearns for peace so lies down on the ground.
Pablo – August 2018